For those of you doing your shopping online this holiday season (for gifts for someone or yourself!), I couldn't let you miss out on some of the discounts online retailers are offering. Lucky Magazine has done a wonderful job compiling some of their favorite sites with offers and discount codes. Check out their list. Some of the offers end today (aka Cyber Monday), so get clicking!
If you had just a day, where would you go shopping in Austin? Me? Oh, of course the fabulous boutiques. Austin for it's size, is quite lucky to have so many. Which leads me to Lucky Magazine, which recently published their Top 10 List: Where to Shop in Austin. Here are my picks – some from their list, some from mine. And, if you aren't so lucky to be here in Austin, most have an online store!

It's wet weather season, so I've got rain boots sloshing around in my head. With many options, and not a regular "think to shop for" item, I wanted to provide some of my top picks.
And if you are looking for an equally hip umbrella to go with your new boots, try Marimekko. Their patterns surely will brighten up that stormy day.

Photo courtesy target.com
Over the last few seasons, those lower waisted jeans, pants, and skirts have continued to rise up and make room for us to show off our true waistlines. And we're not talking Steve Erkel here. These are sophisticated 40′s and 50′s inspired silhouettes with a modern twist. Belts (or a scarf as a belt!) are the perfect way to apply this look to items in your closet already. You can pair these waist-defining bottoms with anything from tighter to blousy tops as long as they can be tucked in.
Here are some ideas for inspiration:

Photo courtesy net-a-porter.com
Menswear is still a hot trend for fall, and if you haven't found that perfect blazer, here are some tips.  I recently was in an unamed trendy chain store and was amazed at the low quality of construction. Yes, cheap looking fabric  threads hanging out of the lining!  And it wasn't exactly inexpensive- around $80.  So, here's what I did – headed to an outlet store (like Neiman's Last Call) and went straight to the suits – both the couture and women's wear.  You'll find an amazing quality and around the same price as I was seeing at unamed store.  Plus you'll have a lot of variety so can get the material (wool or cotton/lycra), fit you want (loose/ menswear or more tailored), or even stray from the basic black.  Check out the men's section if you aren't seeing exactly what you are looking for.  I went into the dressing room with about 10 options and found the perfect one for me.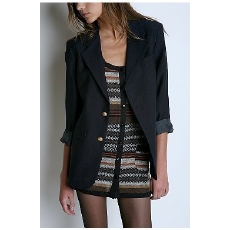 As far as styling, a blazer is a closet staple and will go with just about anything, but here are some ideas for what you probably already have in your closet.
Jeans and a white t-shirt with an interesting necklace. Heels for a night out, or sandals or flats for work.
Roll up the sleeves and pair with a skirt in a pretty print  – tulip or pencil shape skirt if you chose a menswear / looser blazer-  and a delicate cami.  Again, heels, sandals or flats would all work.  Add tights and boots once the cooler weather arrives.
Also, the blazer will work great over a dress – and is a wonderful way to transition to fall.
Also look here and here for more ideas.
It's that time a year again when all the best local boutiques bring out their merchandise to sell it out before their fall items arrive.  Le Garage Sale is this weekend, Saturday and Sunday, at the Palmer Events Center.  If you haven't been there before, you might be overwhelmed.  If you have been before, you know what an awesome event this is!
My time-tested tips to live by:
Wear something that you can easily try on things over. There are very rarely places to change.  For me, this usually means a billowy knee length skirt and a tightish fitting tank – good for pulling things over or under.
Get there early.  Grab your checkbook, stop by the ATM (most only take cash), pick up a Chronicle, a  bottle of water to stash in your purse, some coffee and a kolache and get there by 10:30 to wait in line.  Doors are at 11, but you'll befriend your neighbor to get some tips on what they are heading for first.
Buy the two day pass.  It's only $5 more.
Go straight to your favorite boutiques.  You know they will have what you like.  After you visit those, check out the ones you don't know.
Get only what you can't live without.  It's easy to get wrapped into good deals.   Remember quality over quantity.  If By George has a timeless Alberta Ferretti skirt marked down more than 70% – get it! (true story!)
Don't ignore accessories!  There are tons and tons of clothing and shoes so it's easy to not have belts, bags and jewelry on your mind.
Don't spend more than 2.5 hours there the first day.  I know that 2.5 hours sounds like alot to most of you, but you'd be amazed how long the lines get to check out and who you'll run into for a little chat.
Go on Sunday at 3 (two hours before they close).  This is why you bought the two day pass. The merchants mark their wares down again, they might be willing to discuss further cuts – you'll find great steals.  Check out the furniture and gift stores this time.  If you're too tired (or too over your budget) to make it back, well, you're only out $5.
And some general boutique guidelines (gosh, I can't believe I'm divulging these secrets):
Shiki and By George generally have the best quality items on their racks, but that also means more pricey compared to the other retailers.  Don't get scared off by price – look at the mark down.  It's worth it.
Estilo is always a good bet and usually has items from the past two seasons, so you might even find some fall items you can look forward to wearing.
Newer boutiques, like gallery d, are always good to hit because they'll have less of a crowd.
I noticed Feathers, a vintage boutique, is on the list this season – definitely checking out the funky items they'll have.
Good luck to good finds this weekend!  If I see you there, I want to see what you've picked up!
I've always been one to take my wardrobe pretty seriously.  Even t-shirts with cheeky phrases are now reserved only for pj's. I came across this faux fox stole and thought, "Is someone really going to wear this?"
My rules:
Don't wear something that will make you look ridiculous.  I think the faux fox stole falls into this category.  So do wearing Ugg boots with shorts in the middle of summer.
If you do wear something that makes you look ridiculous, it should be on Halloween or for a theme costume party.
What are the things that you question if you should wear? Whether it's something subtle that shows your sense humor or a little too extreme trend (harem pants anyone?) …
I spent a good amount of time late this spring looking for a couple cardigans that were lightweight and would get me through the summer.  With the 100 degree heat, this now seems ridiculous – but with being in and out of the A/C all day, I've been quite happy that I put so much effort into my search.
My "Perfect Summer Cardigan":
Material couldn't be merino (wool) or cashmere – that would leave me sweltering in the Texas heat
Ideally short-sleeve or had longer sleeves that could be rolled
Versatile enough to be paired with jeans or a casual sundress
Optionally -longer in length.  I've been a sucker for the boyfriend-type cardigans lately.
JCrew has several cardigans, but only a few that are cotton or linen/silk blends.  The one they call their "summer cardigan" is actually merino, so leave that for those folks that live in cooler climates.
Target and Anthropologie both have a few good options that are cotton.
Forever21 ended up being my savior.  I found they had several that met all of my criteria and in multiple colors to choose from!  Pictured here: this short sleeve brightly-colored one – Perfecto!
Happy hunting and stay cool!
Designer, Loeffler Randall, is a husband and wife team with a feminine ahead-of-the-moment aesthetic. I have been coveting their shoes for several years – how could you resist leather formed into ruffles and twisted into knots? Not to mention, somehow their flats didn't destroy my feet from days of walking around San Francisco. In the last few years, clothing and handbags have come into the collection – but I still keep going back for the shoes. Here's a link to the Spring '09 collection. Neiman Marcus is the only place in Austin that carries the line (Fetish did, too, until it's doors closed this last winter), but online you can find it at many places including eLuxury, Shopbop and Net-a-Porter. My little secret? eBay.
In a prior post, Balancing Act, I mentioned bib and statement necklaces, so I thought I'd dedicate a post to just that. I love this recent trend because it's so effortless. Just pair a statement necklace with something simple, even just jeans and a t-shirt or tank, and you'll look instantly chic.
Some of my favorites:
If you are feeling a little adventurous, try eBay. There are tons of finds there! Here are some great ideas, If you need more inspiration