Getting Ready for Fall: The Blazer
Menswear is still a hot trend for fall, and if you haven't found that perfect blazer, here are some tips.  I recently was in an unamed trendy chain store and was amazed at the low quality of construction. Yes, cheap looking fabric  threads hanging out of the lining!  And it wasn't exactly inexpensive- around $80.  So, here's what I did – headed to an outlet store (like Neiman's Last Call) and went straight to the suits – both the couture and women's wear.  You'll find an amazing quality and around the same price as I was seeing at unamed store.  Plus you'll have a lot of variety so can get the material (wool or cotton/lycra), fit you want (loose/ menswear or more tailored), or even stray from the basic black.  Check out the men's section if you aren't seeing exactly what you are looking for.  I went into the dressing room with about 10 options and found the perfect one for me.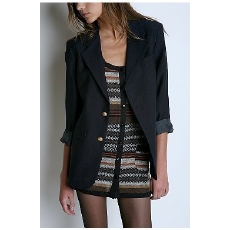 As far as styling, a blazer is a closet staple and will go with just about anything, but here are some ideas for what you probably already have in your closet.
Jeans and a white t-shirt with an interesting necklace. Heels for a night out, or sandals or flats for work.
Roll up the sleeves and pair with a skirt in a pretty print  – tulip or pencil shape skirt if you chose a menswear / looser blazer-  and a delicate cami.  Again, heels, sandals or flats would all work.  Add tights and boots once the cooler weather arrives.
Also, the blazer will work great over a dress – and is a wonderful way to transition to fall.