Archive for the ' Trends ' Category
A curious and exciting trend cropped up last fall and is going full force this spring – printed pants. I'm liking this trend because I mostly wear pants and my wardrobe has gotten a little too predictable with days and days of printed blouses with jeans. Whether you're fond of florals or a leopard lover, this can suit many styles. I opted for a neutral snake print that fits in well with things I already own (see below). What do you prefer and how are you going to incorporate this trend into your wardrobe? Here are some styling ideas to get you flowing. As I find more I'll be adding to Pinterest.
images courtesy of Of Two Minds and Wendy's lookbook
So you've noticed the bright jeans in stores but don't know if you can pull it off? It's actually not that hard to incorporate them into your existing wardrobe.
First examine your clothing to determine what your preferred neutral pallet is. Blacks can work with any of the jewel tones – pinks, purples and blues – and browns can with some pinks. Grays are best with yellows and jewel tones. I always gravitate toward grays, so I added a mustard yellow and a bright pink.
Second, find a brand that fits you well – many jean makers are adding these to their lines, so you can probably find one in a line you know already works for you. Some are also in twill, like J Brand, so they have a little more give.
Last, stick to a straight or skinny leg style for versatility with flats and heels.
Here are some styling ideas that will take these from day to night.
I couldn't let March end without a recap of the top fashion trends I saw while at SXSW Music this year. Endless types of music => endless fashion tastes. Regardless of the show, I was seeing these all over.


Feathers galore – especially in your hair, but also in your lobes!- Feathers are definitely what all the cool girls at school are wearing. The feather hair extensions, or clips for those that want something less permanent. Jessica Lee Mayfield and many of the gals downtown also donned long feather earrings. So, where can you find plumage in Austin?
Clips: Wet on South Congress
For the more permanent extensions: Splendor on North Loop (bonus – they are a boutique too!) and Feather Luxe on South First
The lace up oxford and bootie- I found myself saying way too many times – where did she find those!?! Here are some ideas if you haven't yet made the minor investment in this trend that is having staying power:



Designs in your tights – playing on the lace trend which is still going strong, girls with textured tights, like these from Givenchy, were everywhere! I've decided that while we have this on-again, off-again coldish weather in Austin, I'm totally giving this a try. And once it starts hitting 90, will pack it up until next fall.
So, let me know what you saw that didn't make my list. And if you are a boutique that offers feathers, or has some rad lace-up shoes, let me know!
photo credit: splendoraustin.com, jcrew.com
For those of you that are obsessed with Fiona Paxton's necklaces, but just can't muster up the $300-400 for one, there are quite a few imitations available at under $40. (And no, I'm not kidding!)
If you want the real deal:  locally, try Shiki downtown or The Hip Chick off 360, or online, shopbop.com and Bloomingdales offer a great selection.
Photo courtesy shopbop.com
Over the last few seasons, those lower waisted jeans, pants, and skirts have continued to rise up and make room for us to show off our true waistlines. And we're not talking Steve Erkel here. These are sophisticated 40′s and 50′s inspired silhouettes with a modern twist. Belts (or a scarf as a belt!) are the perfect way to apply this look to items in your closet already. You can pair these waist-defining bottoms with anything from tighter to blousy tops as long as they can be tucked in.
Here are some ideas for inspiration:

Photo courtesy net-a-porter.com
Menswear is still a hot trend for fall, and if you haven't found that perfect blazer, here are some tips.  I recently was in an unamed trendy chain store and was amazed at the low quality of construction. Yes, cheap looking fabric  threads hanging out of the lining!  And it wasn't exactly inexpensive- around $80.  So, here's what I did – headed to an outlet store (like Neiman's Last Call) and went straight to the suits – both the couture and women's wear.  You'll find an amazing quality and around the same price as I was seeing at unamed store.  Plus you'll have a lot of variety so can get the material (wool or cotton/lycra), fit you want (loose/ menswear or more tailored), or even stray from the basic black.  Check out the men's section if you aren't seeing exactly what you are looking for.  I went into the dressing room with about 10 options and found the perfect one for me.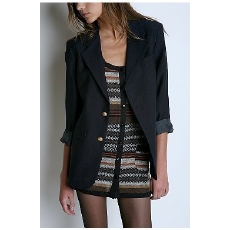 As far as styling, a blazer is a closet staple and will go with just about anything, but here are some ideas for what you probably already have in your closet.
Jeans and a white t-shirt with an interesting necklace. Heels for a night out, or sandals or flats for work.
Roll up the sleeves and pair with a skirt in a pretty print  – tulip or pencil shape skirt if you chose a menswear / looser blazer-  and a delicate cami.  Again, heels, sandals or flats would all work.  Add tights and boots once the cooler weather arrives.
Also, the blazer will work great over a dress – and is a wonderful way to transition to fall.
Also look here and here for more ideas.
I've always been one to take my wardrobe pretty seriously.  Even t-shirts with cheeky phrases are now reserved only for pj's. I came across this faux fox stole and thought, "Is someone really going to wear this?"
My rules:
Don't wear something that will make you look ridiculous.  I think the faux fox stole falls into this category.  So do wearing Ugg boots with shorts in the middle of summer.
If you do wear something that makes you look ridiculous, it should be on Halloween or for a theme costume party.
What are the things that you question if you should wear? Whether it's something subtle that shows your sense humor or a little too extreme trend (harem pants anyone?) …
In a prior post, Balancing Act, I mentioned bib and statement necklaces, so I thought I'd dedicate a post to just that. I love this recent trend because it's so effortless. Just pair a statement necklace with something simple, even just jeans and a t-shirt or tank, and you'll look instantly chic.
Some of my favorites:
If you are feeling a little adventurous, try eBay. There are tons of finds there! Here are some great ideas, If you need more inspiration
That's right, the boyfriend look is back in full force and you can pull off this trend even if you don't have one. I had to try it out myself before I could muster up a post, and actually enjoyed the look a lot. The trend can be best described as "if a guy would typically wear it, you can too": distressed & relaxed jeans, blazers with the sleeves rolled up, button down collared shirts. The trick is, however, to mix one masculine item with feminine items for balance and not go too slouchy with the look. I picked my straight leg distressed dark-ish jeans rolled up very slightly at the bottom, a flowy feminine top (similar to this), under-stated thong sandals, and accessorized with a vintage locket. Chances are you already have all of these items in your closet. Mix sandals for flats and try a thrift store if you don't have distressed jeans. Need some styling inspiration? Try this, this or this.
We all know flora colors and patterns spring into fashion every year.  This year, tulip-inspired shapes are showing up all over the place in forms of skirts, dresses and even tops.
Tulip skirts: I'm seeing them mostly in solids cause the pleating detail doesn't need to be overwhelmed by a pattern.  Stella McCartney's in a grey silk or a less pricy one from Banana Republic.  I also like this one from TopShop with buttons on the back and this one with more draping. Bluefly also has a few including this basic black one from Alvin Valley
Tulip dresses: TopShop scores again with this dress in pastel pink.  Try a slight twist on a basic black dress from Ann Taylor or a long halter from Marc Jacobs. I also like this cute juniors dress from Nordstroms.
Tulip blouses and Ts: Tulip shapes show up in sleeves from Urban Outfitters and Banana Republic.
These tulip patterns also caught my eye: I love this lovely abstract tulip patterned blouse or a more literal one from Marc Jacobs.