Archive for the ' Sales & Discounts ' Category
To all my readers & friends: Here's your chance to get your hands on those (fabulous!) clothes I just can't keep any longer. I've gone through every shoebox, jewelry box, and under-the-bed wardrobe box and am putting items up for sale this Sunday, March 13th from 1-6pm. You'll find vintage, designer and everything in between from all seasons. Sizes available are:
- Blouses, shirts, sweaters, coats & jackets from S-L (6-10)
- Trousers & skirts from 4-8
- Jeans in sizes 27 – 29
- Shoes in 9.5 and 10
…There will also be have plenty of handbags, jewelry, belts and scarves to round out any outfit!
And… if you have a piece in your wardrobe that you just can't figure out how to wear, bring it with you and I'll provide several styling options!
Please see location details & RSVP on the Facebook event page.
See you there!
Kate
Labor Day weekend brings more than just three days off work this year. Saturday and Sunday, Sept 4th and 5th, anxious boys and girls will line up at Palmer Events Center with coffee and pocketbook in hand waiting for Le Garage Sale to open it's doors. Ah, le sigh, I will miss it this season, but wish good finds on those of you that can go. See the Le Garage website for participating boutiques and hours. And check out my tips for getting the most out of Le Garage including what to wear there, what to look for and how to keep your wallet in check.
I couldn't let you miss out on two excellent events are happening on Thursday in Austin.
Skip the routine lunch at your desk and get out for the Kendra Scott Sample Sale at Penn Field Design Center, 3601 S. Congress Avenue, Suite B201. The sales starts at 10am and continues through to 7pm. You also have Friday and Saturday to catch it if you can't step away. Look for amazing deals on Kendra's wearable and fun designs. Pick up a few items for yourself and for a friend.
After work, head down to the 2nd Street District downtown and check out the sidewalk sale. Boutiques between Guadalupe and San Antonio will have music, drinks and end of season steals.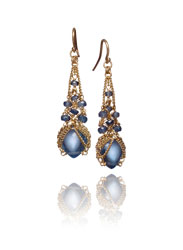 Anthony Nak, the well-known and celeb-popular jewelry design team, has decided to shut their doors.  While you wipe that tear from your eye, browse on over to www.anthonynak.com and swipe up some of their beautiful designs before they are gone.  Most pieces are 50% off, while some are a bit more.
Le Garage Sale is here again. This time, all the boutiques are bringing out their fall/winter buys.  See my tips from my last Le Garage post on how to plan ahead and come out with the best items.  Also, keep your head and pocketbook in closer check this time.  Many boutiques will have heavier wool and cold weather clothes, which you should evaluate how much wear you'll get out of considering our mild winters.
For those of you doing your shopping online this holiday season (for gifts for someone or yourself!), I couldn't let you miss out on some of the discounts online retailers are offering. Lucky Magazine has done a wonderful job compiling some of their favorite sites with offers and discount codes. Check out their list. Some of the offers end today (aka Cyber Monday), so get clicking!
It's that time a year again when all the best local boutiques bring out their merchandise to sell it out before their fall items arrive.  Le Garage Sale is this weekend, Saturday and Sunday, at the Palmer Events Center.  If you haven't been there before, you might be overwhelmed.  If you have been before, you know what an awesome event this is!
My time-tested tips to live by:
Wear something that you can easily try on things over. There are very rarely places to change.  For me, this usually means a billowy knee length skirt and a tightish fitting tank – good for pulling things over or under.
Get there early.  Grab your checkbook, stop by the ATM (most only take cash), pick up a Chronicle, a  bottle of water to stash in your purse, some coffee and a kolache and get there by 10:30 to wait in line.  Doors are at 11, but you'll befriend your neighbor to get some tips on what they are heading for first.
Buy the two day pass.  It's only $5 more.
Go straight to your favorite boutiques.  You know they will have what you like.  After you visit those, check out the ones you don't know.
Get only what you can't live without.  It's easy to get wrapped into good deals.   Remember quality over quantity.  If By George has a timeless Alberta Ferretti skirt marked down more than 70% – get it! (true story!)
Don't ignore accessories!  There are tons and tons of clothing and shoes so it's easy to not have belts, bags and jewelry on your mind.
Don't spend more than 2.5 hours there the first day.  I know that 2.5 hours sounds like alot to most of you, but you'd be amazed how long the lines get to check out and who you'll run into for a little chat.
Go on Sunday at 3 (two hours before they close).  This is why you bought the two day pass. The merchants mark their wares down again, they might be willing to discuss further cuts – you'll find great steals.  Check out the furniture and gift stores this time.  If you're too tired (or too over your budget) to make it back, well, you're only out $5.
And some general boutique guidelines (gosh, I can't believe I'm divulging these secrets):
Shiki and By George generally have the best quality items on their racks, but that also means more pricey compared to the other retailers.  Don't get scared off by price – look at the mark down.  It's worth it.
Estilo is always a good bet and usually has items from the past two seasons, so you might even find some fall items you can look forward to wearing.
Newer boutiques, like gallery d, are always good to hit because they'll have less of a crowd.
I noticed Feathers, a vintage boutique, is on the list this season – definitely checking out the funky items they'll have.
Good luck to good finds this weekend!  If I see you there, I want to see what you've picked up!
Several sites have popped up over the last year are very quickly gaining popularity which feature online sample sales.  They are for members only (but all you have to do is sign-up or get a friend to refer you) and offer sales starting at specific times of the day and usually are only open for 24 hours.  I myself am a member of the big three:  Gilt Groupe, Hautelook, and Rue La La.  And yes, it does require a quick draw of the mouse (and likely a desk job to be around when the sales open) to snatch up what you want before it's gone.  Each one has its own flavor – my personal favorite being the chic New York City style of  Gilt Groupe.  All of them have similar return policies – store credit only – which has actually discouraged me from larger ticket items.  What's your experience?  I want to hear it.  Me? I'm more of a browser in this situation and will likely use my credit on a white t from a brand I know and love.
It's starting to heat up in Austin! Before long you'll be wearing that cute sundress  you bought on sale at the end of last season.  You know that before you can awake it from it's long winter nap, you're in need of the appropriate undergarments.  Perfect timing: Underwear on 12th an Lamar is having a 50% off sale on some of their merchandise through the end of April.
Net-a-porter is my eye candy.  They have a weekly online publication with the latest from the runway and trends of the season.  Their price points are high, so it's music to my ears to hear they are launching an outlet site: The Outnet.  As of now, they just have a signup to be notified when the site launches at www.theoutnet.com.  My hopes are high!