Archive for the ' Designers ' Category
I just got this amazing knit skirt from Dagmar's Fall 2012 line and just couldn't wait until the colder months to wear it. So, here's how I'm wearing it now (while it's still nearing 100 degrees!) and how I plan to wear it into fall and winter.



What is your new fall buy that you can't wait to wear? Send me a link to it (or something similar to it) and I'll create a board for you too!
On March 8, 2012 Marni's collaboration with H&M launches to stores. H&M hasn't made it's way to Austin, but for my readers in Dallas, you are in luck. For the rest of us, perhaps we can get our hands on some pieces, at a higher price point, on ebay or from the UK version of the H&M website. I've admired Marni's prints and chunky resin jewelry for years, so am so glad to see some of those in the collection. To view the entire collection, check out H&M.com and below are some styling ideas with my favorite versatile pieces and the Sophia Coppola directed promotional video.
Who is Tucker, you ask? Tucker is Gaby Basora. She designed a draped silk blouse that by 2005 was flying shelves of Barneys New York and shortly turned into a gotta-have-it line of beautiful, romantic blouses, dresses and now even pants, jumpsuits, outerwear and accessories. I was so excited to see that she was planning a collaboration with Target. I checked out the line in person today and here's my take.
The prints are true to the Tucker style – vintage inspired, mostly floral. These will be great for seasons to come and especially with the 50′s reminiscent look for this fall. Pair one of the print blouses with a tweed skirt or pants and you are set!
The material is not quite as luxurious as her regular Tucker line, but looks more expensive than it is and seems that it will hold up.
The shapes: You will find her signature blouse and dress, camisoles, and a few simple A-line skirts and jackets. The dresses didn't offer much to emphasize a woman's shape, but a leather belt at the waist could fix that.
I was surprised to see so much burnt orange! If you are a UT fan and in need of some more orange for your wardrobe, check out the camisole and dress. There's even a herringbone orange and white skirt.
Here are some styling ideas!
Steven Alan is one of those designers I wish I had discovered sooner.  He became originally known for creating the perfect men's shirt – perfectly tailored yet perfectly unfussy – the kind that looks like you've worn it for years and it was made just for you.   The line expanded into women's wear within the last few years.  A collaboration with Urban Outfitters starting in 2008 called Lark & Wolff made a younger audience take notice.  I love Steven Alan if you are looking for a relaxed look, that begs for jeans and sandals – perfectly summer in Austin.
My top picks:
Locally, try Bows + Arrows and Barney's CO-OP for Steven Alan or Urban Outfitters for Lark & Wolff.  Online, check out www.stevenalan.com – the Lookbook for Spring 2010 provides styling inspiration.
And… if you act fast, you might be able to snag some items in the stevenalan.com online sample sale going on through May 18th at 6pm for  Women and Men.
photo courtesy Steven Alan, stevenalan.com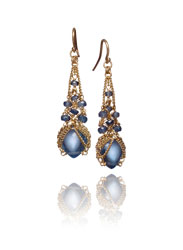 Anthony Nak, the well-known and celeb-popular jewelry design team, has decided to shut their doors.  While you wipe that tear from your eye, browse on over to www.anthonynak.com and swipe up some of their beautiful designs before they are gone.  Most pieces are 50% off, while some are a bit more.
Designer, Loeffler Randall, is a husband and wife team with a feminine ahead-of-the-moment aesthetic. I have been coveting their shoes for several years – how could you resist leather formed into ruffles and twisted into knots? Not to mention, somehow their flats didn't destroy my feet from days of walking around San Francisco. In the last few years, clothing and handbags have come into the collection – but I still keep going back for the shoes. Here's a link to the Spring '09 collection. Neiman Marcus is the only place in Austin that carries the line (Fetish did, too, until it's doors closed this last winter), but online you can find it at many places including eLuxury, Shopbop and Net-a-Porter. My little secret? eBay.
| | |
| --- | --- |
| It's never a good idea to be over-accessorized. The chunky and bib necklaces that are showing up this season need to be complimented with understated earrings.  For this exact dilemma, I am loving Melissa Joy Manning's twisted and classic hoops so much I bought two pairs. | |
Recessionary times sometimes call for recessionary measures.  With so many designers doing lines for Target, I started looking around to see what other retailers have gotten on the bandwagon of offering designer names at discount prices.  Payless was one that I found that had several designers in their portfolio.  Alice + Olivia and Lela Rose are just a few.  What I'm really looking forward to is the Fall 09 line from Christian Siriano, of Project Runway fame.  Here's a sneak peak at the line, which isn't for the faint of heart, or those with chronic back pain.
Vena Cava is a designer I've been seeing for a few years now at By George, Luxe Apothotique, Barney's Co-op and now Nordstroms. Many of the designs use beautiful printed silks and interesting cuts that provide for a unique addition to any wardrobe.  Current and past collections can be viewed at venacavanyc.com
I also had noticed that Old Navy had a knock-off in their spring/summer 08 dress collection, which I was unable to find online.  If imitation is the sincerest form of flattery, I'm happy for this young design team, but Vena Cava's designs themselves are quite affordable.