Archive for the ' Where to shop ' Category
On March 8, 2012 Marni's collaboration with H&M launches to stores. H&M hasn't made it's way to Austin, but for my readers in Dallas, you are in luck. For the rest of us, perhaps we can get our hands on some pieces, at a higher price point, on ebay or from the UK version of the H&M website. I've admired Marni's prints and chunky resin jewelry for years, so am so glad to see some of those in the collection. To view the entire collection, check out H&M.com and below are some styling ideas with my favorite versatile pieces and the Sophia Coppola directed promotional video.
For years and years I've been wishing and hoping that Austin would grow up enough to bloom a designer consignment store. Not just one that has questionably real Chanel and Vuitton bags and things found in your mother's closet that cost her a pretty penny back then, but quality designer clothes that are still relevant today! Well I guess Austin finally did grow up or we just have some pretty smart cookies running the boutiques. Enter Moss and Gallery D.
Moss is owned by the gals that brought you Feathers. For most of us, Feathers might be a little too hipster or "out there", but Moss brings it home to relateable clothes you can wear and wear again. Remember that Dries Van Noten line that featured the marble pattern you missed out on a few years ago? Well, they have it sans the original retail price point. And they have the classics too – Hermes, Prada, Louboutin – and some newer lines that are on the more affordable end of your budget (Frye boots anyone?). What I love is that, like Feathers, they update their blog with their recent acquisitions so you don't have to be stalking their storefront on South Lamar.
Gallery D is in the newish 2nd street district and offers cute party dresses, jeans and tops for the girl about town. What a perfect addition the consignment section is! Cynthia Vincent, Marc Jacobs and Diane Von Furstenburg from recent seasons past rotate through the store frequently, so check in often! And… you might even find something that has previously been seen on yours truly! (I hear there's an amazing gray velvet Chaiken cape and silver and gold Fiona Paxton necklace that might catch your eye.)
Since it is consignment, both stores do split any sales with their previous owners. Policies are listed online and the shopkeepers can answer any questions about what they may be looking for now. So, out with the old and in with the new (to you)!
Who is Tucker, you ask? Tucker is Gaby Basora. She designed a draped silk blouse that by 2005 was flying shelves of Barneys New York and shortly turned into a gotta-have-it line of beautiful, romantic blouses, dresses and now even pants, jumpsuits, outerwear and accessories. I was so excited to see that she was planning a collaboration with Target. I checked out the line in person today and here's my take.
The prints are true to the Tucker style – vintage inspired, mostly floral. These will be great for seasons to come and especially with the 50′s reminiscent look for this fall. Pair one of the print blouses with a tweed skirt or pants and you are set!
The material is not quite as luxurious as her regular Tucker line, but looks more expensive than it is and seems that it will hold up.
The shapes: You will find her signature blouse and dress, camisoles, and a few simple A-line skirts and jackets. The dresses didn't offer much to emphasize a woman's shape, but a leather belt at the waist could fix that.
I was surprised to see so much burnt orange! If you are a UT fan and in need of some more orange for your wardrobe, check out the camisole and dress. There's even a herringbone orange and white skirt.
Here are some styling ideas!
I couldn't let you miss out on two excellent events are happening on Thursday in Austin.
Skip the routine lunch at your desk and get out for the Kendra Scott Sample Sale at Penn Field Design Center, 3601 S. Congress Avenue, Suite B201. The sales starts at 10am and continues through to 7pm. You also have Friday and Saturday to catch it if you can't step away. Look for amazing deals on Kendra's wearable and fun designs. Pick up a few items for yourself and for a friend.
After work, head down to the 2nd Street District downtown and check out the sidewalk sale. Boutiques between Guadalupe and San Antonio will have music, drinks and end of season steals.
Steven Alan is one of those designers I wish I had discovered sooner.  He became originally known for creating the perfect men's shirt – perfectly tailored yet perfectly unfussy – the kind that looks like you've worn it for years and it was made just for you.   The line expanded into women's wear within the last few years.  A collaboration with Urban Outfitters starting in 2008 called Lark & Wolff made a younger audience take notice.  I love Steven Alan if you are looking for a relaxed look, that begs for jeans and sandals – perfectly summer in Austin.
My top picks:
Locally, try Bows + Arrows and Barney's CO-OP for Steven Alan or Urban Outfitters for Lark & Wolff.  Online, check out www.stevenalan.com – the Lookbook for Spring 2010 provides styling inspiration.
And… if you act fast, you might be able to snag some items in the stevenalan.com online sample sale going on through May 18th at 6pm for  Women and Men.
photo courtesy Steven Alan, stevenalan.com
For those of you that are obsessed with Fiona Paxton's necklaces, but just can't muster up the $300-400 for one, there are quite a few imitations available at under $40. (And no, I'm not kidding!)
If you want the real deal:  locally, try Shiki downtown or The Hip Chick off 360, or online, shopbop.com and Bloomingdales offer a great selection.
Photo courtesy shopbop.com
For those of you doing your shopping online this holiday season (for gifts for someone or yourself!), I couldn't let you miss out on some of the discounts online retailers are offering. Lucky Magazine has done a wonderful job compiling some of their favorite sites with offers and discount codes. Check out their list. Some of the offers end today (aka Cyber Monday), so get clicking!
If you had just a day, where would you go shopping in Austin? Me? Oh, of course the fabulous boutiques. Austin for it's size, is quite lucky to have so many. Which leads me to Lucky Magazine, which recently published their Top 10 List: Where to Shop in Austin. Here are my picks – some from their list, some from mine. And, if you aren't so lucky to be here in Austin, most have an online store!

It's wet weather season, so I've got rain boots sloshing around in my head. With many options, and not a regular "think to shop for" item, I wanted to provide some of my top picks.
And if you are looking for an equally hip umbrella to go with your new boots, try Marimekko. Their patterns surely will brighten up that stormy day.

Photo courtesy target.com
Menswear is still a hot trend for fall, and if you haven't found that perfect blazer, here are some tips.  I recently was in an unamed trendy chain store and was amazed at the low quality of construction. Yes, cheap looking fabric  threads hanging out of the lining!  And it wasn't exactly inexpensive- around $80.  So, here's what I did – headed to an outlet store (like Neiman's Last Call) and went straight to the suits – both the couture and women's wear.  You'll find an amazing quality and around the same price as I was seeing at unamed store.  Plus you'll have a lot of variety so can get the material (wool or cotton/lycra), fit you want (loose/ menswear or more tailored), or even stray from the basic black.  Check out the men's section if you aren't seeing exactly what you are looking for.  I went into the dressing room with about 10 options and found the perfect one for me.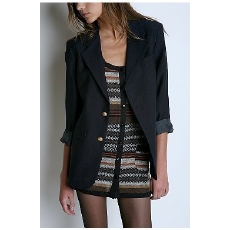 As far as styling, a blazer is a closet staple and will go with just about anything, but here are some ideas for what you probably already have in your closet.
Jeans and a white t-shirt with an interesting necklace. Heels for a night out, or sandals or flats for work.
Roll up the sleeves and pair with a skirt in a pretty print  – tulip or pencil shape skirt if you chose a menswear / looser blazer-  and a delicate cami.  Again, heels, sandals or flats would all work.  Add tights and boots once the cooler weather arrives.
Also, the blazer will work great over a dress – and is a wonderful way to transition to fall.