Archive for the ' How to Wear It ' Category
I just got this amazing knit skirt from Dagmar's Fall 2012 line and just couldn't wait until the colder months to wear it. So, here's how I'm wearing it now (while it's still nearing 100 degrees!) and how I plan to wear it into fall and winter.



What is your new fall buy that you can't wait to wear? Send me a link to it (or something similar to it) and I'll create a board for you too!
On March 8, 2012 Marni's collaboration with H&M launches to stores. H&M hasn't made it's way to Austin, but for my readers in Dallas, you are in luck. For the rest of us, perhaps we can get our hands on some pieces, at a higher price point, on ebay or from the UK version of the H&M website. I've admired Marni's prints and chunky resin jewelry for years, so am so glad to see some of those in the collection. To view the entire collection, check out H&M.com and below are some styling ideas with my favorite versatile pieces and the Sophia Coppola directed promotional video.
A curious and exciting trend cropped up last fall and is going full force this spring – printed pants. I'm liking this trend because I mostly wear pants and my wardrobe has gotten a little too predictable with days and days of printed blouses with jeans. Whether you're fond of florals or a leopard lover, this can suit many styles. I opted for a neutral snake print that fits in well with things I already own (see below). What do you prefer and how are you going to incorporate this trend into your wardrobe? Here are some styling ideas to get you flowing. As I find more I'll be adding to Pinterest.
images courtesy of Of Two Minds and Wendy's lookbook
Fur is a classic. Nearly always in style, but alas us Texans can rarely wear it. When the weather cools, I prefer my fur in the form of a vest. It's quite easy to pair a vest with jeans, a simple long sleeved t-shirt, and boots to be quickly out the door. Here's how you can take a fur vest from day to night.
So you've noticed the bright jeans in stores but don't know if you can pull it off? It's actually not that hard to incorporate them into your existing wardrobe.
First examine your clothing to determine what your preferred neutral pallet is. Blacks can work with any of the jewel tones – pinks, purples and blues – and browns can with some pinks. Grays are best with yellows and jewel tones. I always gravitate toward grays, so I added a mustard yellow and a bright pink.
Second, find a brand that fits you well – many jean makers are adding these to their lines, so you can probably find one in a line you know already works for you. Some are also in twill, like J Brand, so they have a little more give.
Last, stick to a straight or skinny leg style for versatility with flats and heels.
Here are some styling ideas that will take these from day to night.
My winter wardrobe has a tendency toward grays, beiges and blacks – talk about bringing on seasonal depression! Lucky Magazine's blog the other day reminded me how much a white in winter contracts against all those dark drab colors and fends off the blues. Check out this white maxi skirt with a simple black top, blazer and booties – don't you have all these things in your wardrobe already? Sub the white maxi for white jeans and you'll be equally hip.
Here's a look for day and night to get your creative juices going: start with white jeans and a gray top and layer from there.
Austin City Limits annual music festival is happening over 3 days this weekend in Austin, Texas. The festival caters to many musical tastes and attracts attendees of all fashion tastes, so the people watching is a must. Standing out in a crowd is even more of a challenge with 85,000+ people in attendance, so here are some recommendations for how to dress for the festival, whatever type of music fan you are.
The City Slicker
What she won't miss: The Black Keys, Broken Bells and The xx.

The Hippie
What she won't miss: Phish, Monsters of Folk, Midlake, Edward Sharpe and the Magnetic Zeroes

The Rocker
What she won't miss: Lissie, The Eagles, M.I.A. and The Strokes.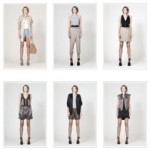 It's not often you are inspired to remain neutral – usually it's easy to pick one direction or the other. But, a recent feature from Anthropologie has me thinking of how I remain neutral without being boring.
Know your neutrals: black, brown, gray, tan /beige, cream, and white or anything in these color families. Navy is also a great neutral, especially for those who don't like wearing black.
Pick which neutrals work for you.  These should be fairly obvious as to what you gravitate toward or know what looks best on you.  Some of us look better in cream than white, or brown rather than black.
Start your outfit by picking 2 neutral colors as your palette.
Add texture and layers. Try to avoid solids for each piece or one dimensional fabrics. Work in a subtle stripe or print or some texture with a knit, ruffle or other embellishment.
Add accessories – belts, scarves or jewelry. Here you can bring in another neutral or a hint of color.
Get inspired with some of these ideas:
photo courtesy style.com and Alexander Wang
Over the last few seasons, those lower waisted jeans, pants, and skirts have continued to rise up and make room for us to show off our true waistlines. And we're not talking Steve Erkel here. These are sophisticated 40′s and 50′s inspired silhouettes with a modern twist. Belts (or a scarf as a belt!) are the perfect way to apply this look to items in your closet already. You can pair these waist-defining bottoms with anything from tighter to blousy tops as long as they can be tucked in.
Here are some ideas for inspiration:

Photo courtesy net-a-porter.com
In a prior post, Balancing Act, I mentioned bib and statement necklaces, so I thought I'd dedicate a post to just that. I love this recent trend because it's so effortless. Just pair a statement necklace with something simple, even just jeans and a t-shirt or tank, and you'll look instantly chic.
Some of my favorites:
If you are feeling a little adventurous, try eBay. There are tons of finds there! Here are some great ideas, If you need more inspiration